Activities
We provide a wide range of fun and creative activities to help your child progress through their natural stages of development. Each group has a carefully designed daily routine that includes general play, structured activities, rest time and playing in the fresh air outside whilst focusing on the individual needs of your child. This routine gives the children a sense of familiarity and gives a good variety of learning opportunities.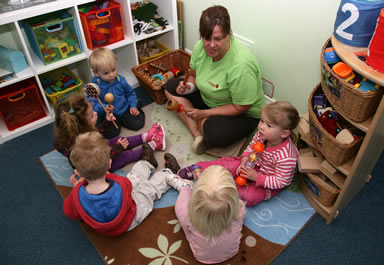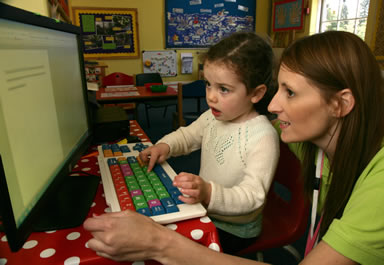 Learning and Development
Within our nursery we strive to progress all our babies and children to their full potential, offering them a variety of opportunities following the Early Years Foundation Stage (EYFS).
The EYFS explores three prime areas with all children. Focusing specifically on younger children, which develops the foundation for life-long learning and development, the EYFS's prime areas are; communication and language, physical and personal development and social and emotional development. We provide lots of cuddles, story times, singing, music and movement, crawling, walking, running, jumping and sensory experiences (such as treasure baskets and corn flour play).
When the child has developed some or all of the foundation skills, their learning expands to explore and investigate specific areas:
literacy (reading, writing)
mathematics (numbers, shapes, space, measuring)
understanding the world (people and communities, the world and technology)
expressive art and design (music & movement, creative art and textiles)
Children learn and develop at different rates and they also fluctuate between prime and specific areas, so we plan for each child individually. Our older children are also supported by our dedicated teacher who encourages the children to recognise words and letter using phonetics and the Oxford Reading Tree resource.
All of this ensures that the children integrate into mainstream schooling as smoothly and as easily as possible. Lots of our activities are based around dates on the calendar such as Chinese New Year, Easter, Diwali and Christmas allowing the children to take part in fun, exciting celebration and learning about other cultures at the same time. We also have activity days such as messy play day, world food day, Disney day and pets day to explore the children's interests and learning.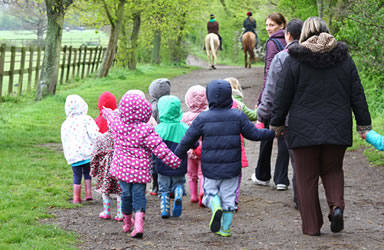 Trips out
Getting out and about is an important activity for us. Our location means we can go on short nature walks, visit animals or go to the library – teaching the children about the world around them and exposing them to new and interesting places.
Outdoor play
Our outdoor learning area and all-weather shelter are second to none. All the children in our care are encouraged to play outside as it gives them chance to run around and let off steam. Our outdoor toys include ride-ons, climbing frames and slides though we also do painting, puzzles and story time outside too.
We have a nature trail where children can hunt bugs or build dens, a big walk-in sand pit and trampoline, plus a large designated growing area. Younger children also have extra outdoor play areas attached to their rooms.
Forest School
Our Forest School provides children with the opportunity to explore and experience the natural world through a balance of practical child-led learning and adult enhanced opportunity. Find out more about Forest School.