Our Senior Team
Angela O'Sullivan, Manager
As well as overseeing the running of the nursery, a key part of my role is to provide new and creative ways to help the staff teach and support the children's learning.  I am always looking at new activity ideas to help with the children development.  I enjoy enhancing both the practitioners and the children's learning opportunities through reflective practice and positive role modelling to a high standard.
I gained my Early Years Professional Status in September 2013 following my Early Years Degree.  I also hold a Level 3 Forest School Leader qualification and I am a designated Safeguarding Lead (DSL)for the nursery. 
Karen Reynolds, Deputy Manager
I have been at this lovely nursery since July 2000 and have cared for the children across the different age groups from 3 months to 5 years.  I joined as a float nursery nurse and then became a group leader of the 2-3 year olds for eight years before moving to the 18 months – 2 ½ year room, which I ran until December 2014.  In May 2006, I was promoted to Deputy Manager and in January 2015 I came out of the rooms and have been office based since.  I am responsible for overseeing staff and the running of the nursery.  I am NNEB qualified and have kept my training up to date with a number of Early Years courses.
The most enjoyable part of my job is having fun with the children when covering rooms and helping with their development. I believe in building strong relationships with the parents, as well as the children, so that parents know that when they leave their children with us they will be safe and well looked after.  We have great staff at the nursery that all get on well.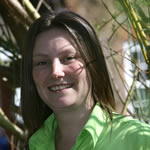 Charlotte Briley, Deputy Manager
I love working with the children, teaching them new skills and watching them develop.  Every day is different – but wonderful in its own way.  I am a mum myself so I know how hard it can be to leave your child with people you don't know well, but I do know that when children are left at Appletree Day Nursery they are in the best possible hands.
I have been at the nursery since 2003 and am the nominated SENCO (Special Educational Needs and Disability Coordinator). I also oversee the behavior management within the nursery, providing training, support and advice to practitioners and families. I completed my Early Years Degree in 2020 and am part of the designated Safeguarding (DSL) team for the setting.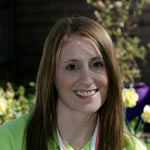 Telma Costa, Group Leader Badgers (2.5-5 years)
I always have fun and learn a lot from working in the preschool room. Being part of the children's learning is so important and I find my role very rewarding. I joined Appletree in 2011 as a volunteer and then I had the opportunity to progress becoming a student and upon finalizing my studies I was given the opportunity to experience acting Group Leader of Badgers room and now becoming the permanent Group Leader and I cannot imagine being anywhere else. It is a warm and loving environment, and we try to provide the best learning experiences for every child. My team and I pride ourselves on helping the children become school-ready and prepared for the next chapter in their lives.
I am one of the nursery's Forest School Leaders and the Outdoor learning officer, both roles promoting learning through child lead play and using naturals resources as the main learning experiences.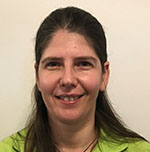 Donna Clunie, Group Leader Moles (2/2.5 - 3 years)
I have been at Appletree since May 2005. I started in the kitchen and moved to the moles room in November 2007 where I have been ever since. I am a Level 3 Forest School trained leader, Level 3 qualified NVQ Childcare Professional and I have recently completed training in managing behaviour and autism. I am currently training to become a SENCO and I am a First Aid officer and deputy DSL.
Working with the children in moles is different everyday. Everyday we share lots of laughter with the children. We all learn so much from each other and the children motivate me daily to become a better person, children are the most honest and accepting little people. Helping children and their families is the most rewarding job and I can think of. It is so great to be a part of a child's first experiences. It is great to see the wonder in a child's eyes as they explore messy play, a muddy puddle or a spider spinning in its web or a bright shining rainbow!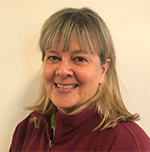 Diana Mitova, Group Leader Hedgehogs (3 months - 2 years)
My name is Diana and I have been part of the nursery for the past 6 years. I have worked in all rooms, which has helped me to build a better knowledge of children's development in Early Years.
I am a qualified level 3 Early Years practitioner and am currently doing my BA in Management. Before I moved to the UK I worked in English Language tuition, helping children to learn English as their second language. I came to England as an au pair for a lovely family and stayed with them for 4 years.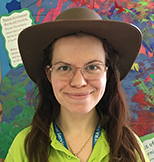 Karen Hornsby, Senior Cook / Housekeeper
I have been at Appletree as a senior cook and housekeeper for 8 years and have an NVQ 2 and NVQ 3 in Catering and Hospitality. I also hold a Food Hygiene Certification. Providing the children with nutritious meals so that they have the energy to enjoy all the activities going on at the nursery each day is a key part of my role. I am also experienced in catering for children who have food allergies. I have two grown up children of my own, so it is lovely spending time with the younger ones on a regular basis. The staff and children all call me 'Kitch' - a nickname that started years ago. It is wonderful watching the children grow and become independent little people.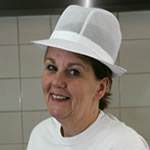 Sheree Blades, Office Administrator
I joined Appletree Day Nursery in January 2013. I come from an advertising and media background and can honestly say I really enjoy the nursery environment. All the staff here are lovely and I have grown attached to many of the children. I like that no two days are the same. My project management skills, honed in my previous jobs, are very useful in helping me to fulfil my role in the nursery office. I am a mum I can understand how difficult it can be for parents to leave their child at nursery but Appletree does a wonderful job in looking after them. I am also a designated deputy Safeguarding Lead for the nursery.